As a kid, I spent a lot of time hating sleepovers. The sleepover birthday invite would arrive at my desk at school, and I'd be shot straight into an anxiety spiral. I wasn't used to sleeping over at a house that wasn't mine, and the thought of all my friends falling asleep before me srrrsly freaked me out. But mostly, the prospect of getting my period in the middle of the night was enough for me to want to ditch the whole thing in general. *shudders* How could I possibly explain a period leak to everyone at the sleepover?? And what if I had to call my mom to come get me??? How embarrassing would that be!!?????? 
It wasn't until I realized that the key to feeling comfortable at sleepovers was just putting in a teeny tiny bit of prep work. When you feel prepared, it eliminates SO. MUCH. STRESS! And then you're free to kick back, do a face mask, watch To All The Boys I've Loved Before and see how long you can stay up with your girls. Read on to find out all the best ways to period prep for a sleepover!
Wear Period Underwear 
There are many, many, many annoying things about having a period, but one that's a true pain in the butt is just how inconsistent it can be. This is especially true if you're new to the period game, as it can take some time for your body to adjust to having a regular cycle. It can be panic inducing at sleepovers, because who the heck knows if Aunt Flo will actually show up to the party or not!! Instead of wearing a bulky "just-in-case" pad or an annoying panty liner, go for a pair of Sleepover Short instead. 
The Sleepover Short are undies that are extra absorbent. They have a super long leak-proof liner that stops leaks, no matter which way you sleep. If you zonk out on your stomach, sprawl out starfish style, or thrash around while you're catching zzZZZZ's , you'll be protected all the way (they absorb up to 3 tsp of blood, which is the same as 2 tampons!) 
If you're on your period, the Sleepover Short is also a much safer alternative to sleeping with a tampon in. Completely risk free, they can be worn for over 12 hours. Woo! 
The best part is they look like regular undies and come in very, VERY cute prints, which means they'll be your little secret. Until, of course, all your friends start asking you where you got those cute shorts from. 
Pack a Period Kit
A Period Survival Kit is KEY at a sleepover. It doesn't have to anything fancy, but prep a little pouch in your backpack with the following: 
Extra pads and tampons

Pain reliever like ibuprofen for cramps

Wipes/ hand sanitizer 

Stain-Remover Stick (just! in! case!) 
If you need any other suggestions on a Period Survival Kit, check out our in-depth guide here! Not only is it handy to have in case of your own emergencies, but for your pals as well. If you're nervous about being prepared for your period in class or at sleepovers, chances are… they are too. Which brings us to, 
Don't Be Afraid to Talk About Your Period
Periods can feel embarrassing and nerve wracking, especially when you're not at home or sleeping over a friend's house. Maybe you don't know everyone at the sleepover. Maybe you haven't met your pal's parents yet. Maybe you're nervous about leaking in someone else's bed or sleeping bag. These are all valid! Just remember that everyone at your slumber party is probably in the same boat as you. They all have the same questions, all the same worries, and all the same uncertainties about their periods. At least one person at your sleepover has been caught without a tampon, or has accidentally leaked somewhere, or got their period when they were least expecting it.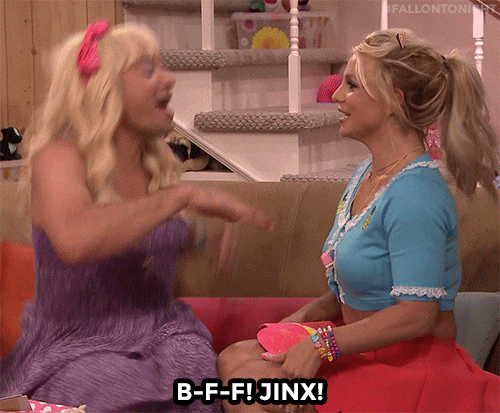 It might feel tricky to start a convo about your period, but the more you talk about it, the less anxiety you'll have. The good news is that sleepovers were basically invented for girl talk. And there's no better time to start talking about your period then at 3 AM in your PJs surrounded by snacks while Mean Girls is playing.